Art and the sea.
Experiences that live in the future.
A journey of Miare Art :Bonds of Life
Miare is a Japanese word in Shinto meaning the birth of new divine power. The Miare Festival is a rite that takes place every October. The deities at the two o shore Munakata Taisha shrines (Okitsu-miya on the island of Okinoshima and Nakatsu-miya on the island of Oshima) are transferred temporarily across the sea to the third Munakata Taisha shrine of Hetsu-miya on the mainland. In this way, the power of the three female deities of Munakata comes togethereach autumn.
Munakata Miare Art Festival 2023 takes place concurrently with this ancient rite, embodying the cyclical nature of life's bonds in tune with the sea and forest, as expressed in the timeless Japanese concept of tokowaka (everlasting youth).
The values and mindset of tokowaka are visible in the practices that seek to build sustainable environments, perhaps most famously in the Shikinen Sengu series of rituals in which the Ise Jingu shrine is gradually rebuilt and transferred to an adjacent location on the site every twenty years. The Munakata Eco International Symposium also endeavors to spread this ethos around the world.
Munakata Miare Art Festival 2023 features participatory art, lectures, and music for everyone young and old to learn about the area's traditions, culture, and history. Visit Munakata to experience a unique synthesis of contemporary art and ancient ritual.
| DATE
Sunday, October 1 → Sunday, October 15
| VENUE
■Munakata Taisha Hetsu-miya (Shimpokan Museum, shrine path, Prayer Hall)
Shimpokan Museum: 9 a.m.–4:30 p.m. (open every day), free entry for festival (tickets required for special exhibitions)
Prayer Hall: 9 a.m.–5 p.m.
Munakata Chayu: 10 a.m.–3 p.m. (open every day)
10 minutes by taxi/Nishitetsu bus from JR Togo Station, get off at Munakata Taisha-mae
■Munakata YURIX (Burial Mound Plaza)
9 a.m.–8 p.m. (closed Mondays, but outdoor exhibits open)
5 minutes by taxi from JR Togo Station
■Uminomichi Munakatakan
9 a.m.–6 p.m. (closed Mondays except for national holidays; closed Tuesdays if Monday is a national holiday), free entry
10 minutes by taxi/Nishitetsu bus from JR Togo Station, get off at Munakata Taisha-mae
■Konominato & Tongu
free entry
20 minutes by taxi/Nishitetsu bus from JR Togo Station, get off at Kamiminato Hatoba
| ART MAP
A packed lineup of art against a backdrop of ancient spirituality
Enjoy the wide variety of art on offer at the different locations of the festival, from works exploring the unique nature, history, and culture of Munakata to a project about marine debris and pieces created with locals.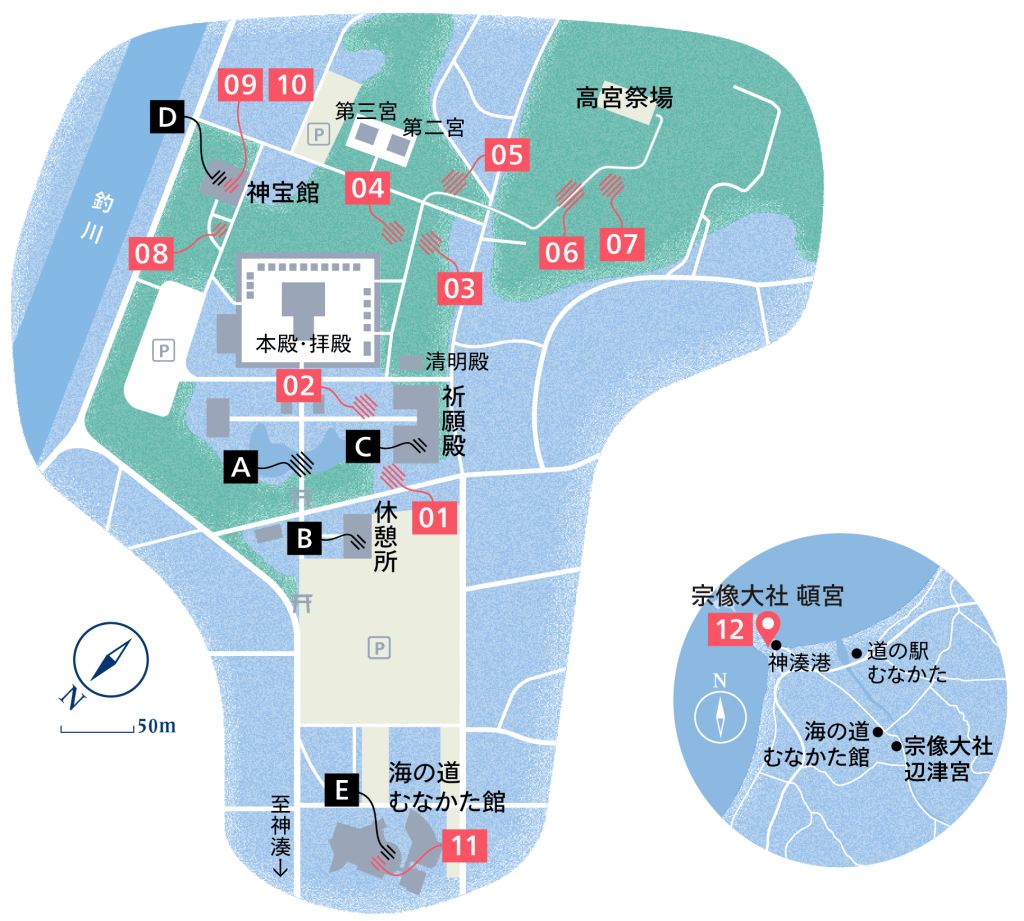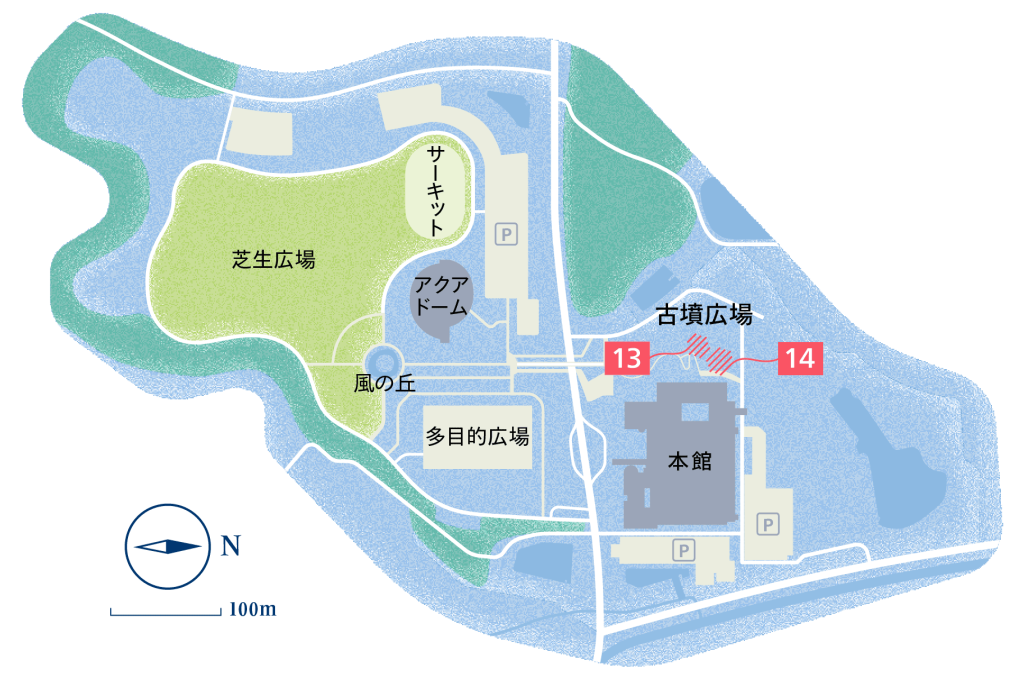 ■01 Thousand Skies, Thousand Seas, Thousand Histories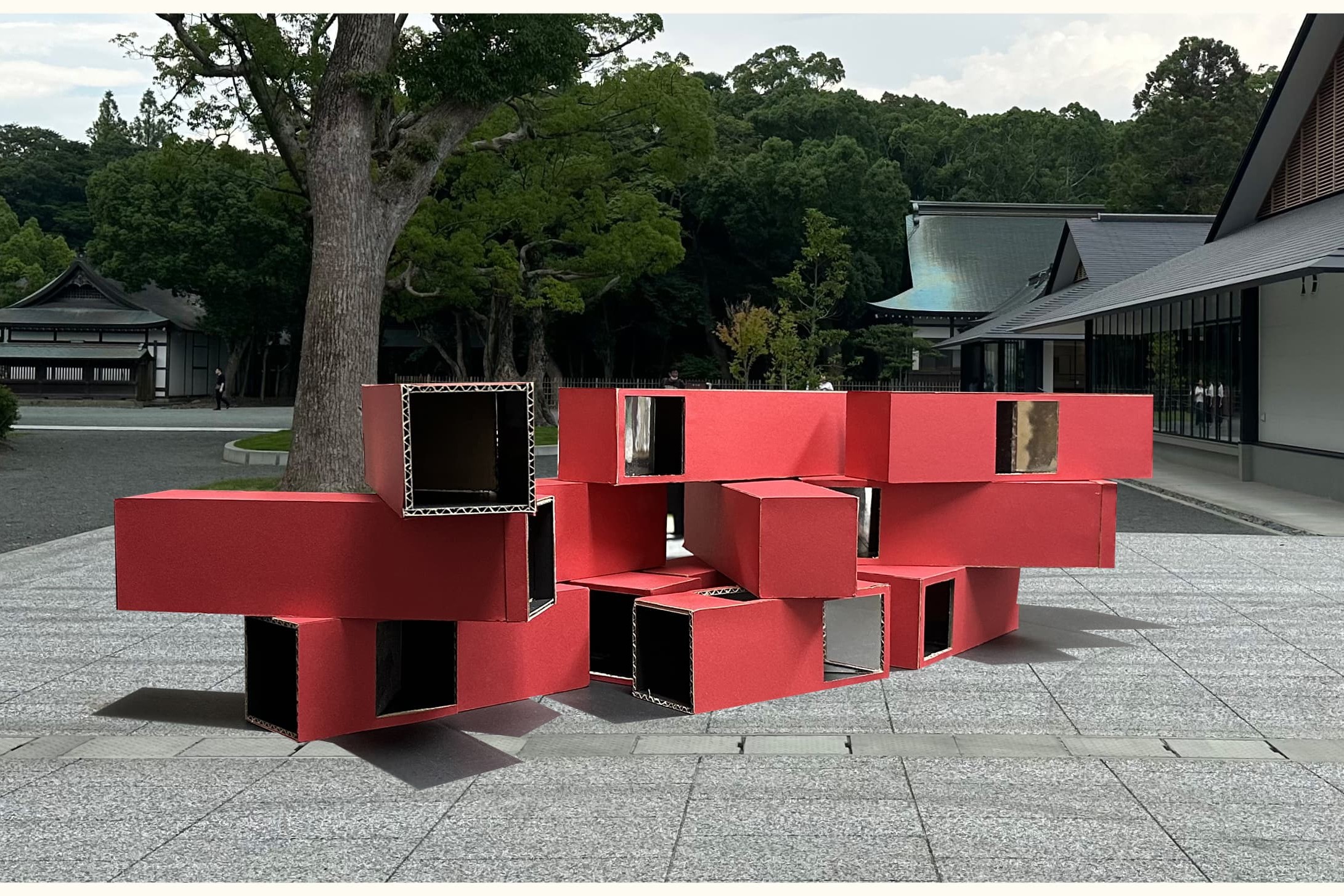 Taichi Tomuro [Architect / Tokyo]
Corrugated plastic, mirrors, other secondary materials
Depending on how we view them, an object may appear in many different ways. The meaning of an object also changes according to how we look at it. What is vital is never to interpret something in a fixed way, but to reinterpret it from as varied angles as possible. This installation is an attempt to present the diversity of such ways of seeing objects.

Even the landscapes we think we know and understand can seem different when viewed from another vantage point. I remember the sheer joy I felt as a child when making a periscope and peeping through it to view things from a slightly different height from normal. When our perspective on the landscape that we know and slightly changes slightly, it can seem fresh and different from how it always is.

Is this landscape of sky, sea, and forest truly the sky, sea, and forest that we know? They may be different from what you thought you knew. This seems more pronounced with objects and things related to history or mindsets. Were things really like that?

The world you know is never singular. The world is, in a sense, merely the appearance of something. We must stop sometimes and try to take a fresh look at things.

Look through the red tube and perhaps you'll behold a whole new world.
■02 Rindo: Way of the Bell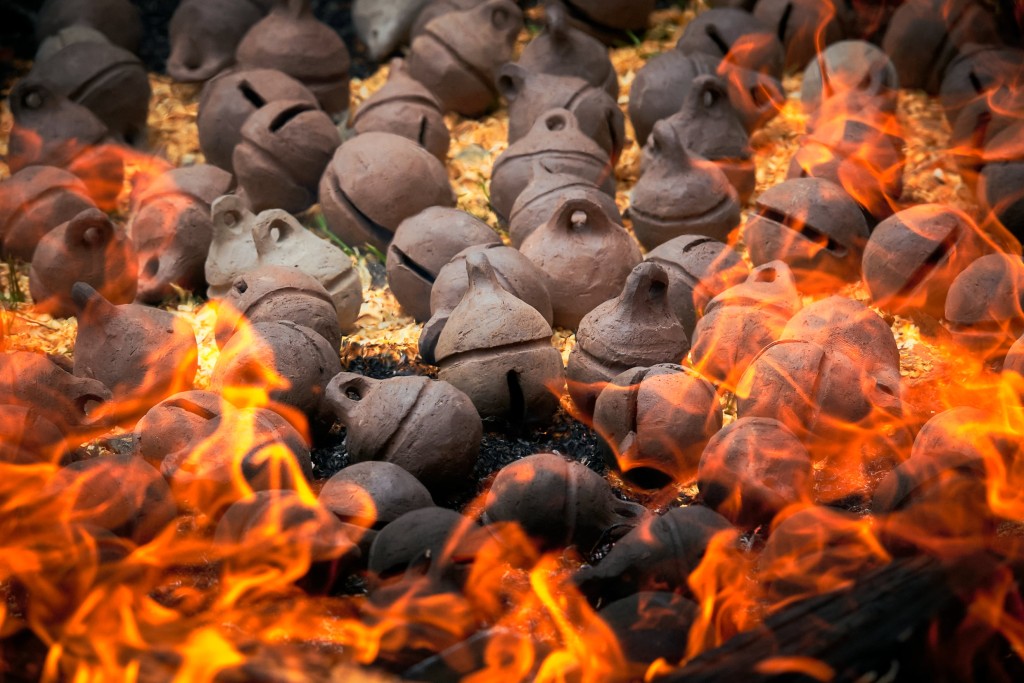 Toshihisa Ishihara × iima [Ceramist × Music group / Fukuoka]
China clay
Since ancient times, people have rung bells to ward off misfortune and evil spirits. These bells resounded with the prayers and thoughts for family and friends. Rindo features bells made by members of the public. At the performance on October 7, Maki Nagayama's clear singing voice and the sounds of bells will resonate around Munakata Taisha Hetsu-miya.

-Toshihisa Ishihara-
There is a framed photograph on display in my home showing my preschool-age daughter and me walking up the path to Takamiya.
For me, Munakata Taisha was a special place. It's a place that I always go with friends visiting from far away. And the path leading to Takamiya has given me inspirations and new ideas many times.
I was overjoyed to have the chance to participate in an art festival in such a place. There followed a process of dialogue with the people on the executive committee and from the shrine itself, of course, and I have engaged with the history, culture, religion, traditions, and, above all, the gods of Munakata Taisha. And when I did so, the image of the work I am presenting emerged naturally.
Music was very pivotal in this. I want to make an offering of music to the gods. Without hesitation, I contacted iima, a musician duo of whom I'm a big fan. Their music was the perfect fit for the work I had in mind. Their gaze is always replete in gratitude, felicity, and reverence.
Not only vocalist Maki Nagayama's singing and guitarist Takayuki Ishii's playing, I also wanted to have audiences at the concert contribute some sort of sound.
The inspiration for the instruments that they would play came from Munakata Taisha's Shimpokan Museum, which I have visited often.
Bells.
Ever since the prehistoric Jomon period, people have rung bells to ward off evil spirits. A wealth of literature tells us that bells were an indispensable part of ancient rituals.
I decided on the title for the work as soon as the project started to get underway: Rindo: Way of the Bell. I had in my mind an image of three intersecting paths or routes: the sea, which connects Japan with the Asian landmass; time, which weaves our history and culture; and people, who have nurtured life.
Bells have accompanied us on those paths, at times expressing safety during travel, at others family happiness, or gratitude to the gods. I want to ring such resonant bells in an art festival. Their sound will become the energy and a pivot for the festival.
While actually making my work for the festival, I imposed another vital pivot on my efforts: to make the majority of the work, including the bells, using an outdoor firing technique without a kiln.
This is a sensation experienced by humans back in the age when we discovered and starting to use fire: the Jomon or Yayoi periods. Fire. Smoke. Air. Wind. Dripping sweat. Thirst. By vicariously experiencing those things that ancient people must have felt, sensations and shapes were born.
The meaning of a work of art lies not only in the time during which it is a finished artwork and on display to people visiting a festival, but also in the process leading up to that. In the case of the work I've made this time, the process is not the activities undertaken to complete it but rather the very work itself.
Looking back on when I was young, I would apply for and get rejected from many craft fairs and open-call exhibitions. The only event that accepted my application was a craft fair in Chiba. And the materials I submitted for the screening process included a photograph of a ceramic bell I had made. Later, one of the people who was involved in screening the submissions told me that my ceramic bell had really impressed them.
People have continued to value and make ceramic or earthenware bells. The sounds of bells will reverberate through the forest of the shrine. But surely the tiny sounds of those bells will be drowned out by the immense currents and eddies of the world? I beg to differ.
The resonant peals of the bells will form a prayer for the happiness of my daughter who held my hand as she walked, and for all the children who ring the bells.
■03/08/09 Multiple Laws of Perspective: Moving Viewpoints and Paintings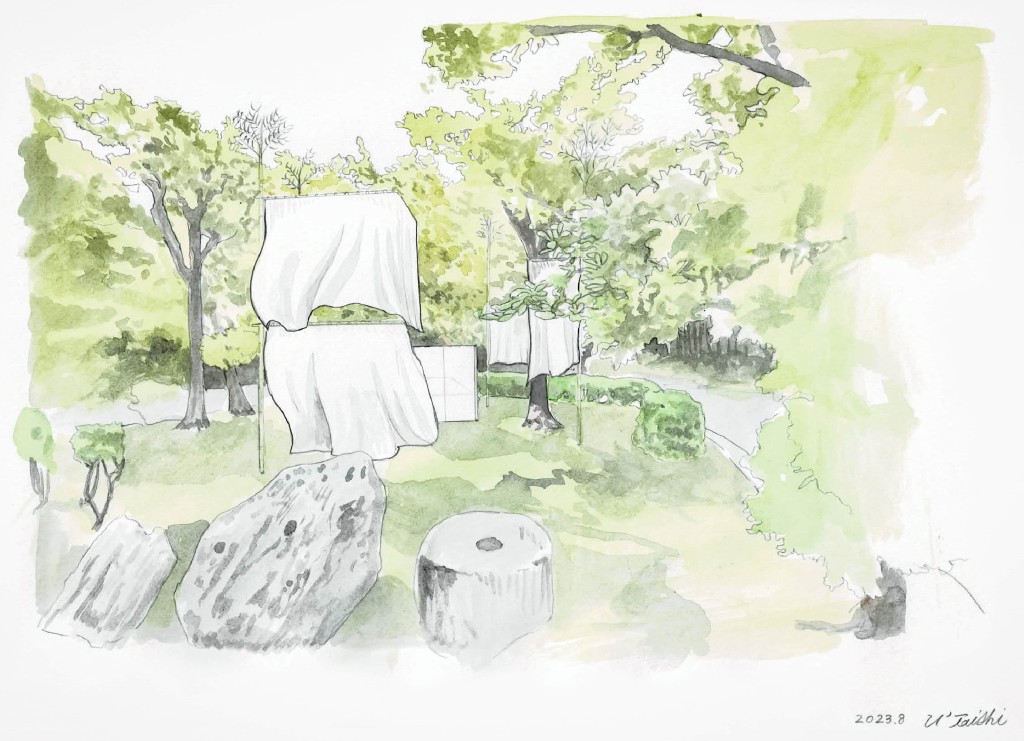 Taishi Urakawa [Artist / Fukuoka]
Mixed media
This work comprises three landscape paintings installed at different places around the shrine. It attempts to visualize the relationship between Munakata Taisha and Okinoshima using gradated paintings positioned so that the full image is difficult to grasp.
■04 Visible Forms, Invisible Forms: abstract dusts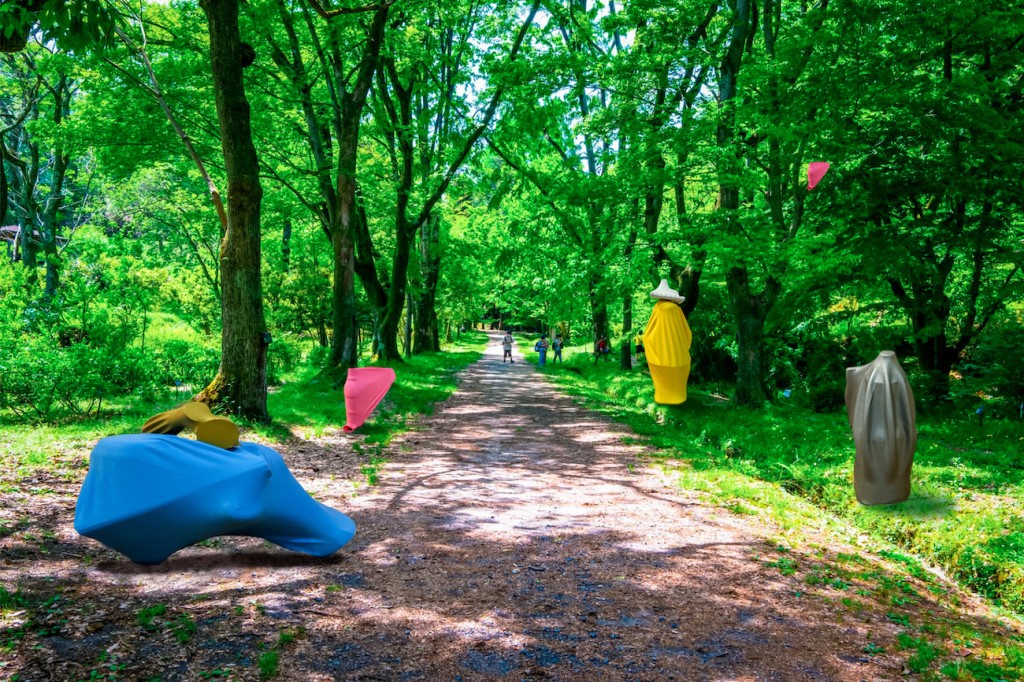 Takeharu Nakabayashi[Sculptor / Kanagawa]
Marine debris, latex, etc.
The marine debris that washes up on Oshima is full of vivid colors and attractive shapes. I realized that these are things invested with the memories of the functions they used to fulfill.
The essential purpose of art is to find new value in the things and phenomena we overlook in daily life. Please enjoy these marine debris artworks wrapped in latex rubber.
Overflowing Civilization
Tangled up with a tugboat, vast piles of marine debris overflow, cling desperately to something like a sacred tree, and seem to encapsulate the difficulty of moving forward.
Circle
The spherical buoys that washed up on the shore bring to mind the rituals that once took place on Okinoshima and the sacred ornaments that people wore. Arranging them in a circle symbolizes the cyclical nature of things.
Tricycle of Memory
While taking a walk around Oshima, I came across a tricycle whose iron had rusted off and was quietly trying to revert to nature. As indicated by the character used to write it in Japanese, iron is a substance that weathers, rusts, and is lost. When I cut into it, the inside was still the vivid bronze we recognize as iron. Welding and enlarging those parts, I brought back to life the memories of the children who once rode and prized this trike.
■05 Ama's floating dream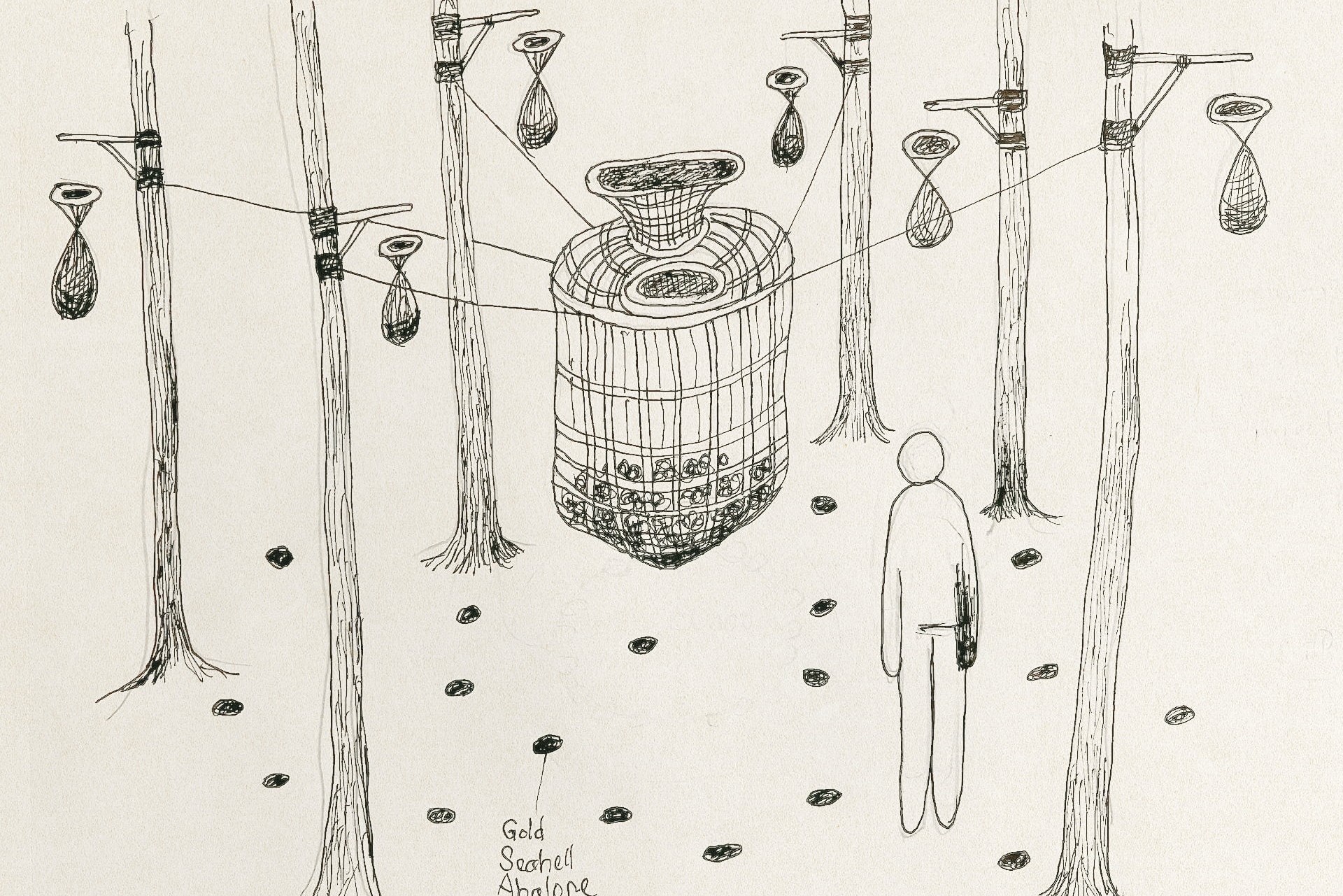 Zai Kuning [Contemporary artist/ Singapore]
Munakata shells, Bamboo strip, Lifebuoy,etc.
This work is about Japan's ama female pearl divers and their dreams, and is intended as a prayer for the health of the sea that is such a vital part of their lives. Created by the artist in Munakata, it focuses on a culture that has continued for over a thousand years.
■06 Miare of Sound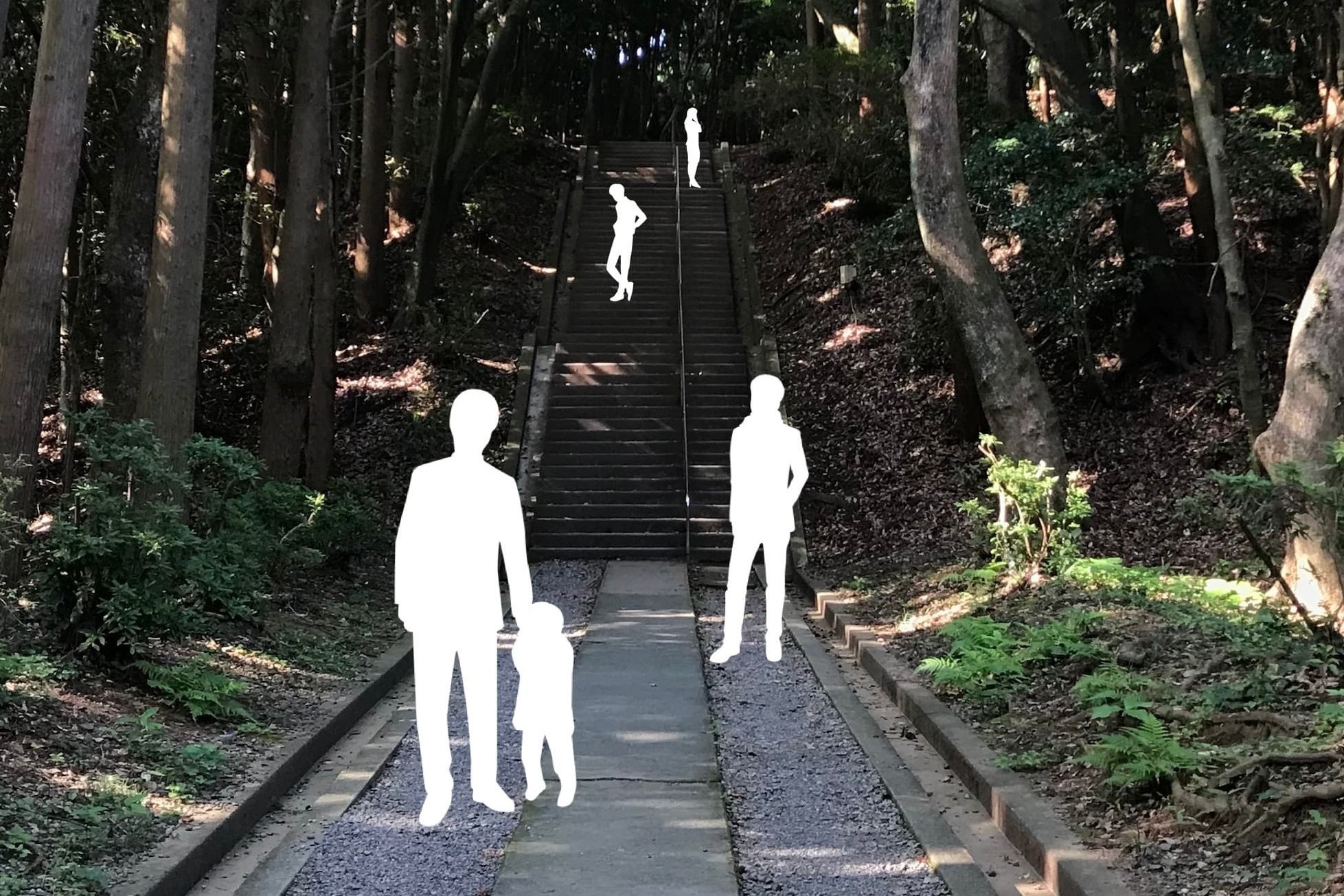 Jiro Hashimoto [Musician / Hyogo]
Soundscape of Munakata
Munakata has symbolic sounds rooted in its culture, history, and terroir; sounds that can only be heard there. Munakata has long played host to festivals and folk performances. It has its own climate and nature. And the people and creatures who live there. The various sounds we can hear in Munakata form the material for my work, resulting in something that resonates with the site specificity of the area. Based on the soundscape of Munakata, Miare of Sound is an aural experience of the divinity of this place. The limpid waters that gush out of the ground at Munakata. The sea that flows in the distance. Inspired by those manifold sounds of nature we can hear, I have drawn on the water, stones, and three female deities of Munakata to conjure up the voices and signs of the gods who have inhabited this place since time immemorial. Created from those sounds that, like the gods, are not visible to the human eye, the work aspires to offer a moment of miare, of the birth of new divine power.
■07/10/11/12/13 The Light, Wind, and Rainbow of Miare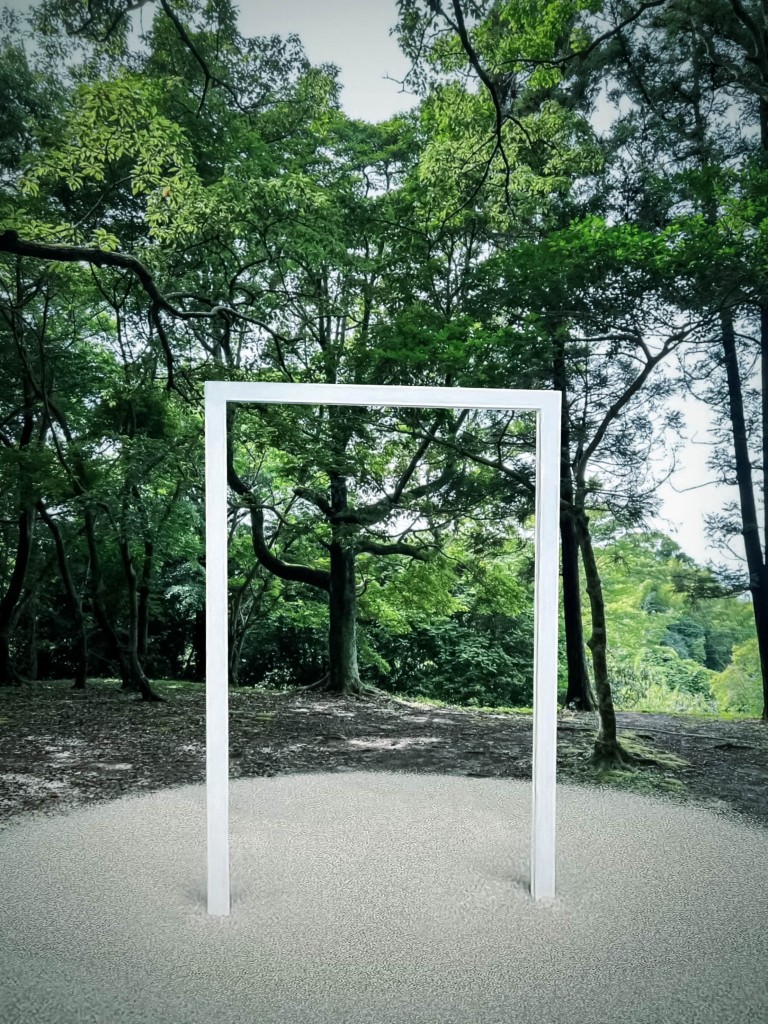 Shigenobu Yoshida [Contemporary artist / Fukushima]
Wood, luminous paint, stone, video
In ancient times, Munakata was a place that prospered through trade with the Asian continent, and has enjoy a long and rich history of exchange with other nations. It was a place where cultures, economies, and peoples intersected.

The Light, Wind, and Rainbow of Miare connects three locations (Konominato harbor, a gateway to the continent; the shrine Munakata Taisha; and Munakata YURIX's burial mounds), serving as a device facilitating the cycle of light, wind, and art, and as a symbolic virtual "light gate" that lights up at night.

The work aspires to unify the nature of this area with the whole cosmos, and incorporates magnetic ideas of which the work provides an overview.

The work also features a video work showing rainbow light on the trees in the shrine and a rainbow reflecting on the water in the harbor, which is a bridge between the sacred and worldly.

During the festival, my work Bird of Light Candle, which was created as a requiem for the dead nine years after the Great East Japan Earthquake, will be lit up with locals, and an event held to pray for future peace.

Two workshops ("Rainbow Observations" and "Collecting Rainbows") will also be held simultaneously, utilizing sunlight to create rainbows. In "Rainbow Observations," participants will use triangular optical prisms to observe the world enclosed inside a rainbow. In "Collecting Rainbows," participants will use water and mirrors to reflect sunlight and catch rainbows.

A rainbow is a tool that enables communication between the natural world and the cosmos, and when I view a rainbow, I too come to see that it is a momentary phenomenon of the world.
The workshops will be very open to different kinds of expression, becoming a symbol of beauty and hope by sharing rainbows with children.

By spreading dynamic ideas linking Munakata's and our planet's atmosphere with the sun in outer space, we can, through a work of art, experience phenomena that evince the power of nature that is light, wind, and rainbows.
■14 Dance Notation of Wind and Wave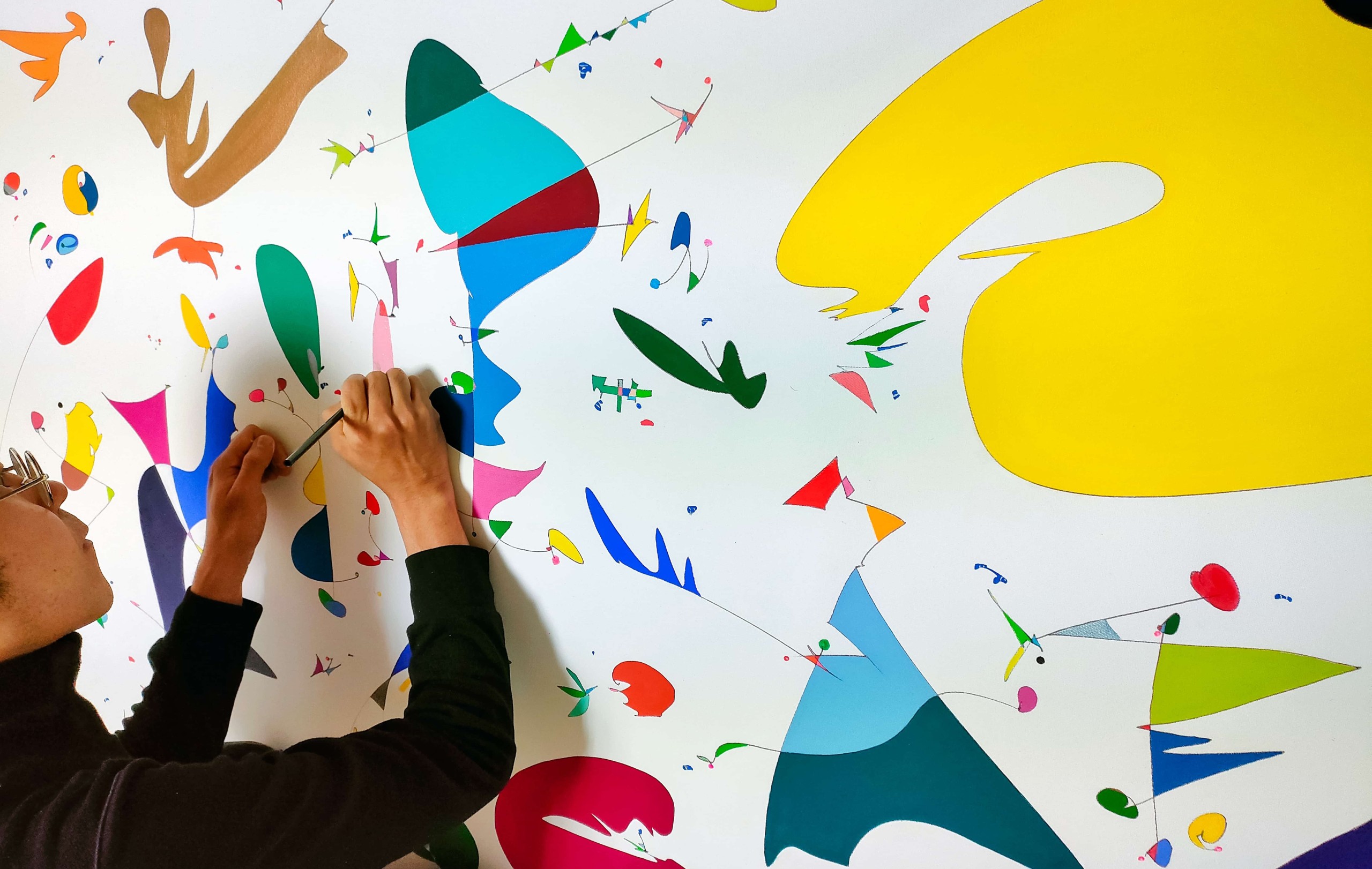 Kaoru Shibuta [Contemporary artist / Kagawa]
Acrylic and oil paints on canvas
Based on research conducted on the island of Oshima, this work turns the wind and waves of Okinoshima into a dance notation, presented in the natural surroundings of the Munakata burial mounds.

The island of Oshima is home to Nakatsu-miya, one of the three Munakata Taisha shrines. It is dedicated to the deity Tagitsuhime-no-Kami, one of the three female deities of Munakata. At the peak of Mount Mitake too can be found evidence of ancient rituals.

As a painter, I am interested in sounds and improvise visualized renderings of their colors and shapes. Information and what we sense through our five senses comes from seeing or hearing things, and so on, and then the information we receive in that way gets combined inside us and perceived, at which point it feeds back to us through another sense, and so our senses remain open in this way to stimuli. I sense the colors and shapes of sounds in such a state of synesthesia. Through our senses and perception, we receive influences daily from the environment that surrounds us (that is, the outside world and others), and it's not the case that the only things that exist are what remains, what we sense clearly from what enters unconsciously while we are trying to understand, what cannot be grasped, those faint, intangible things. As if taking inspiration from and communing with that, this work is expressed through shape, color, and material. Though the initial key that provides the first hints is different, I would like to create an environment in which new forms of communing arise by arranging and circulating the work in the space.
| ARTISTS
■Toshihisa Ishihara × iima
Ceramist × Music group / Fukuoka
The ceramic artist Toshihisa Ishihara has teamed up with iima, a music group comprising vocalist Maki Nagayama and guitarist Takayuki Ishii, exclusively for the festival. This pairing will conjure up a special experience of the ordinary transformed into the extraordinary by the sounds of bells resonating around Munakata Taisha Hetsu-miya.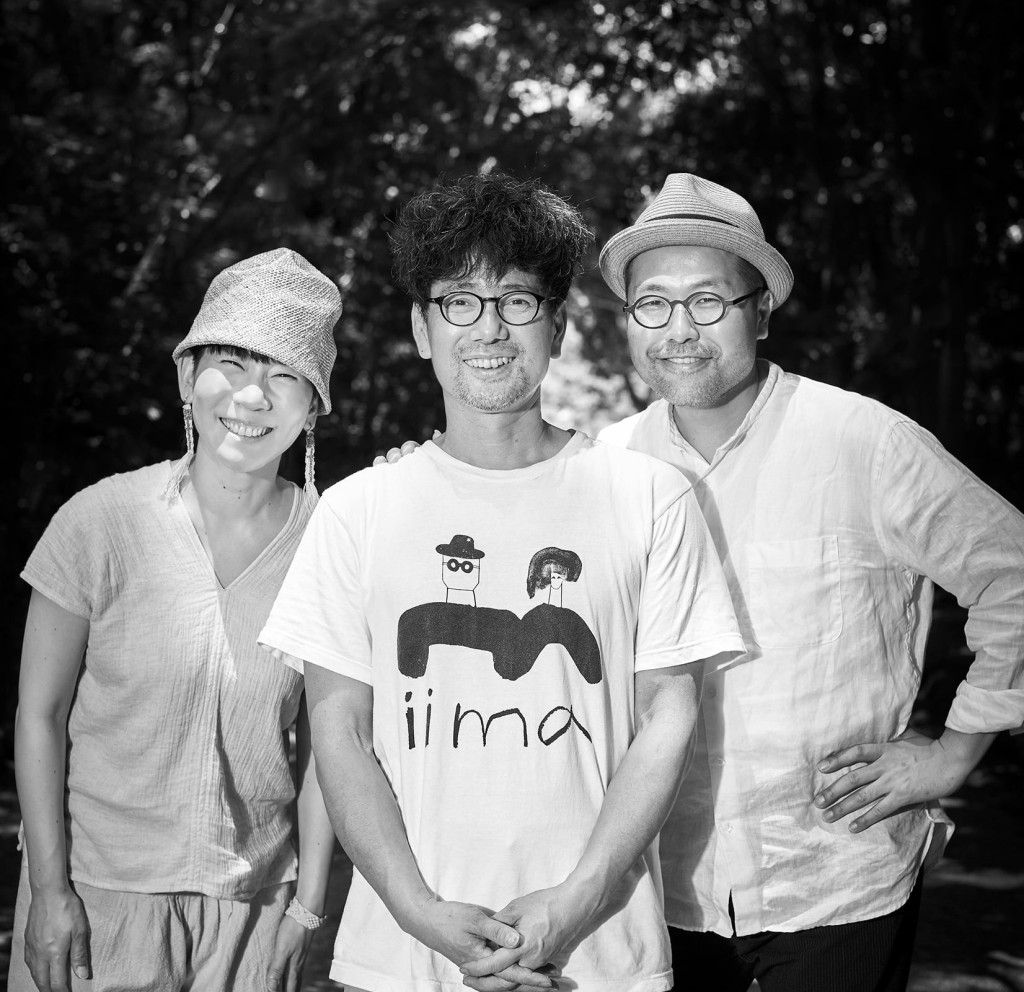 ■Taishi Urakawa
Artist / Fukuoka
Born in 1994 in Munakata, Fukuoka Prefecture, Taishi Urakawa's practice explores the theme of contemporary landscape painting through the digital elements seen on social media and smartphones.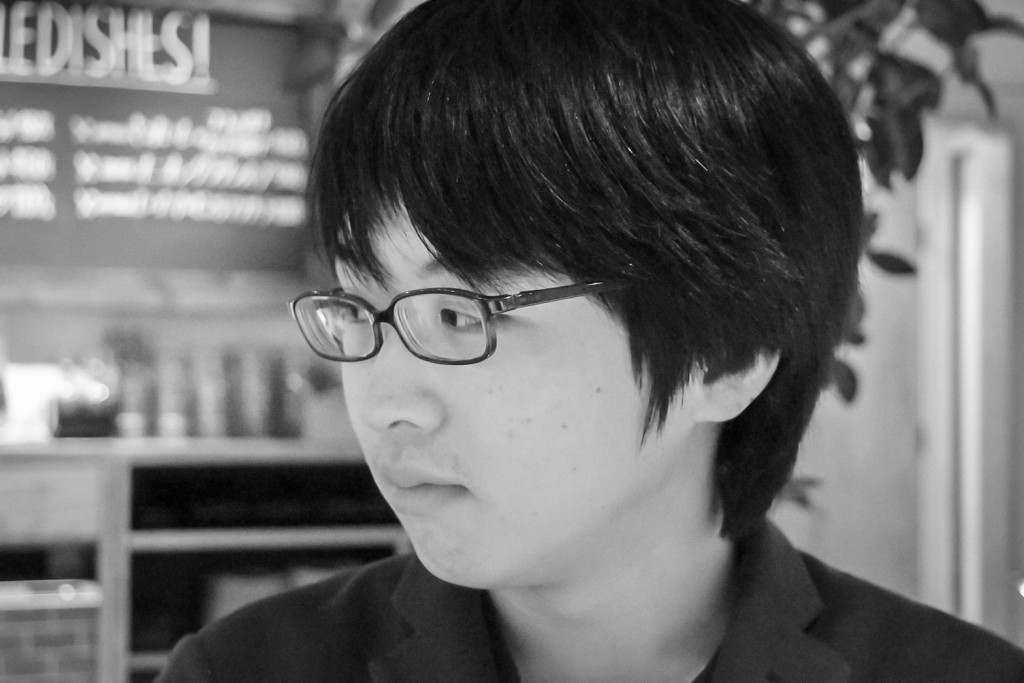 ■Zai Kuning
Contemporary artist / Singapore
Born in 1964, Zai Kuning is a leading Singaporean artist known for his wide-ranging practice across di erent fields, including sculpture, installation, performance, painting,music, and film.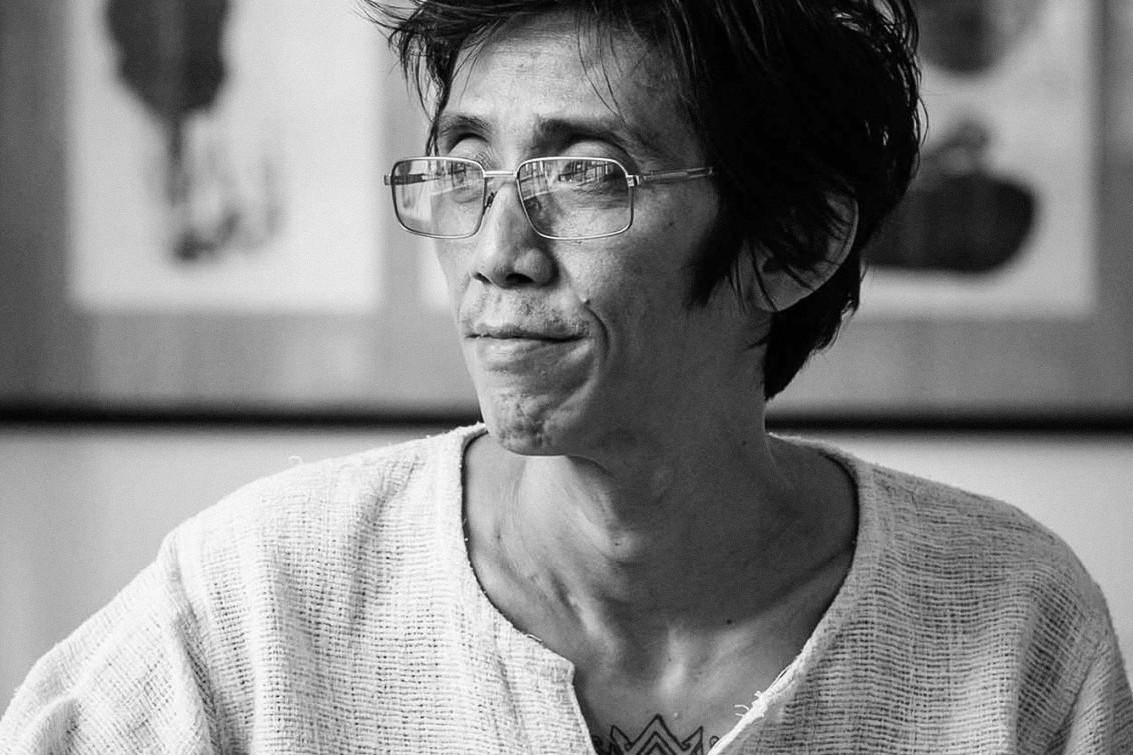 ■Kaoru Shibuta
Contemporary artist / Kagawa
Kaoru Shibuta was born in 1980 in Hokkaido and is now based in Kagawa. He is a graduate of Kanebo Makeup Institute and Pan Makeup School.

Shibuta was raised in the great outdoors of Hokkaido. His work synesthetically translates sound into painting. He has taken part in artist residencies at venues around the world, including the Espronceda Institute of Art & Culture (Barcelona), Centre d'Art Santa Mònica (also Barcelona), and the National Center for Contemporary Art (Saint Petersburg). From 2023, he serves as an ambassador for Pebeo.
Awards
2021 13th Art Festival of Paper Grand Prize (Fuji Paper Art Museum, Shizuoka), Ex-Tempore Ptuj 2021 Special Jury Award (Ptuj, Slovenia), SHIBUYA AWARDS 2021 Shibuya Sound Music Award (Tokyo)
2019 14th Arte Laguna Prize Basu Foundation for the Arts and Outofblue awards (Arsenal, Venice)
2018 RT FAIR ASIA FUKUOKA 2018 New Artists Exhibition Gallery Prize, Audience Award (Hotel Okura Fukuoka)
Exhibitions
2023 Hankyu Art Fair 2023 (KAWATA GALLERY, Hankyu Umeda, Osaka), Diffusion of Nature 2023: Soil & Dream (GASBON METABOLISM, Yamanashi), HAUSMUSIK Ryutoen (Hotel Ryutoen Artist in Residence, Saga), on peut (Art Rhizome Kyoto, COCOTO by COCO GALLERY), CHURA KAMUY SONG (ANA InterContinental Manza Beach Resort, Okinawa)
2022 Lenny's (between the arts gallery, Tokyo), 4th International Biennial of Works of Art on Paper (Museum of Kozara, Bosnia and Herzegovina)
2021 London Art Biennale (Chelsea Old Town Hall, London), Hamakaze (BankART Station, Yokohama)
2020 Global Arts Festival (Elisabeth Jones Art Center, Portland), Sinfonia Artist in Residence Exhibition (Kamoe Art Center Hamamatsu), Little Voices (Kensington + Chelsea Art Week 2020, London)
2019 St.SONIC (National Center for Contemporary Art in Saint Petersburg), Swing DORA (Centre d'Art Santa Mònica, Barcelona)
2018 Swing Mozart (Espronceda Institute of Art & Culture, Barcelona)
Collections
Espronceda Institute of Art & Culture (Barcelona)
ANA InterContinental Manza Beach Resort (Okinawa)
Elisabeth Jones Art Center (Portland)
Lake Studios Berlin
Picasso Pupils (India)
Pebeo Japon (Kobe)
Royal Park Hotel Haneda (Tokyo)
Sado Island Galaxy Art Festival (Niigata)
■Taichi Tomuro
Architect / Tokyo
Born in 1961 in Tokyo, Taichi Tomuro graduated with a degree in architecture from the Waseda University Faculty of Engineering in 1985.

From 1985 to 1989, he worked for Kunihiko Hayakawa Architect and Associates, contributing to NW House, Stratum, GA House, Hiroo House, and other projects. From 1989 to 1994, he worked for Renzo Piano Building Workshop Japan, assisting with the design for the Kansai International Airport Passenger Terminal Building. From 1995 to 1998, he joined Álvaro Siza's studio (under the auspices of the Agency for Cultural Affairs Overseas Study Program for Artists 1995–96), contributing to the Portugal Pavilion at Expo '98 in Lisbon, and more. From 1998 to 1999, he worked for Noriaki Okabe Architecture Network, helping with the design execution for the Nagaoka Culture Forum, among other projects. Between 1999 and 2006, he worked for Taniguchi and Associates, contributing to such projects as the Museum of Modern Art, New York, and an exhibition of Yoshio Taniguchi's work.

Tomuro established his own architecture studio in 2006. His major projects include: Hanegi House (Setagaya ward, Tokyo, November 2010), Tomodachi no Mori Nursery School (Kokubunji, Tokyo, joint design, March 2012), Tanoshii Mori Nursery School (Kodaira, Tokyo, March 2013), Lumbini Nursery School (Edogawa ward, Tokyo, March 2015), infill design for the cooperative housing project Azabu-Juban II CH (Minato ward, Tokyo, May 2015), Myofukuji Lumbini Gakuen Kindergarten (Edogawa ward, Tokyo, March 2016), the study hall and kitchen for the temple Myofukuji (Edogawa ward, Tokyo, February 2018), Futaba Club Konan Nursery School (Shinagawa ward, Tokyo, March 2018), Midorigaoka Daini Kindergarten (Hita, Oita, June 2018), Higashi Kanki Nursery School and Kindergarten (Kakogawa, Hyogo, November 2019), the new school building design for Tsukikage Nursery School (Edogawa ward, Tokyo, January 2021), and renovations design for Shirayuri Creche (Edogawa ward, Tokyo, March 2021).

Tomuro's current projects include MUGEN, a group home in Tokyo, and the office building for Wako Electronics in Kanagawa.

He taught architecture at Hosei University from September 2008 to March 2011, at Tokyo University of Science from September 2016, at Kogakuin University from April 2020, and at ICS College of Arts from December 2020.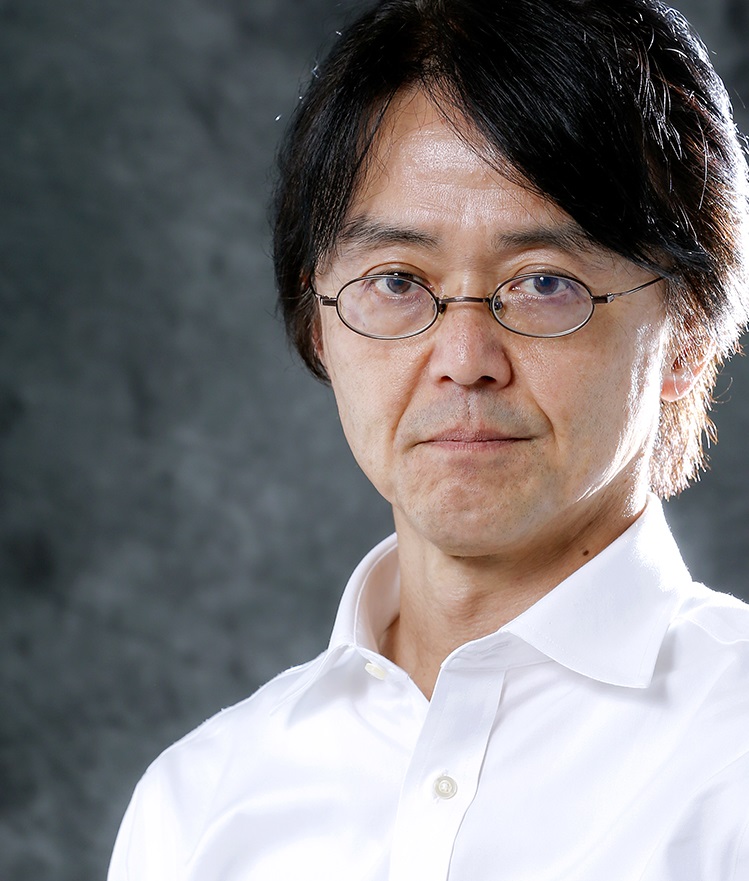 ■Takeharu Nakabayashi
Sculptor / Kanagawa
Jiro Hashimoto is a musician and sound artist. In addition to compositions and sound-based artworks, he creates field recordings of symbolic sounds inspired by the culture, history, and terroir of specific locations, enabling audiences to hear the soundscape of those places.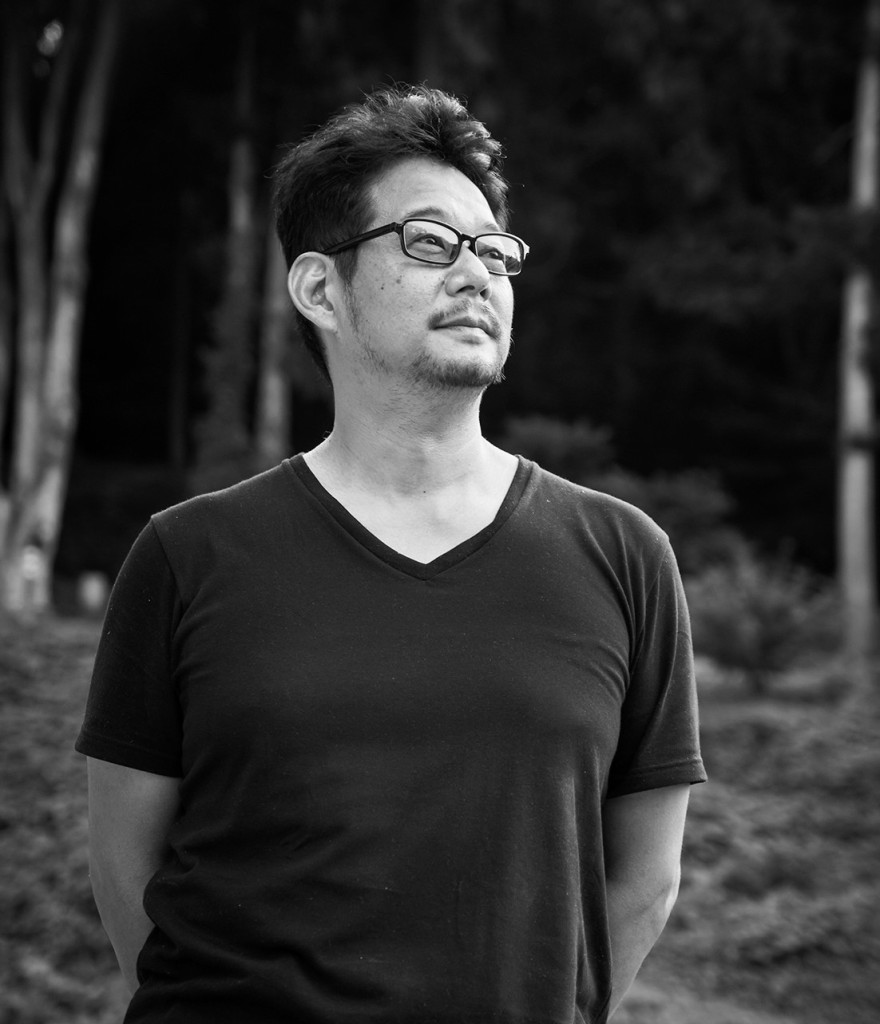 ■Jiro Hashimoto
Musician / Hyogo
Jiro Hashimoto is a musician and sound artist. In addition to compositions and sound-based artworks, he creates field recordings of symbolic sounds inspired by the culture, history, and terroir of specific locations, enabling audiences to hear the soundscape of those places.
Major Works
2023 Okukuji Harmony
2022 beppu note, Background music for Minatoyama Aquarium
2021 Background music for Arimasansoh Goshobessho
2019 beppu note / for installation, mikanohara
2017 Path of the wind
2016 Water Dance
2015 SPRINGECHO
2014 for rain 
2013 words of star
2012 music for bota, forestone, GARDEN
2011 ORBIS
2010 Raum
Major Exhibitions and Performances
2021 Daigo Town × JR × Avex Suigun Line Station Art Competition (Ibaraki), Kizugawa Art 2021 (Kyoto)
2020 International Art Festival Biwako Biennale 2020 (Shiga)
2019 beppu note (Oita)
2018 Sound Installation Beppu (Oita), Kizugawa Art 2018 (Kyoto)
2017 Sound Installation Beppu (Oita), Live in Berlin (Berlin), Kameyama Triennale 2017 (Mie)
2016 Sound Installation Beppu (Oita), Kizugawa Art 2016 (Kyoto), KENPOKU ART 2016 (Ibaraki)
2015 Sound Installation Chokakuji (Oita)
2012 Sound Exhibition Licht (Hyogo)
2011 Sound Exhibition Orbis (Hyogo) 
2010 Space × Messy Room (Hyogo)
http://zeit-label.com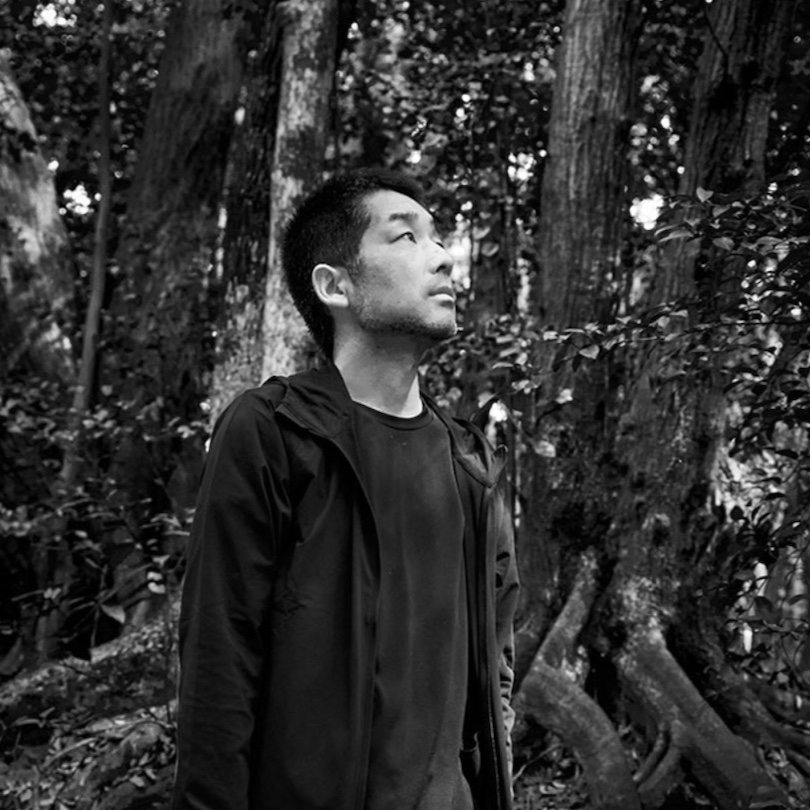 ■Shigenobu Yoshida
Contemporary artist / Fukushima
Born in 1958 in Iwaki, Fukushima, Shigenobu Yoshida is a contemporary artist whose practice explores light. He began exhibiting installations and videos using sunlight in the early 1990s. Shuttling back and forth between the scientific and metaphysical aspects of optics, his work presents the essence of light and the relationship between humans and nature.

After showing Infinite Light, a work about natural light, at Iwaki City Art Museum in 1991, Yoshida went on to exhibit at such venues as Art Tower Mito, Utsunomiya Museum of Art, Hiroshima City Museum of Contemporary Art, Kawamura Memorial DIC Museum of Art, Meguro Museum of Art, Tokyo, Iwate Museum of Art, Tokyo Photographic Art Museum, and Tenshin Memorial Museum of Art, Ibaraki.

From 1995, he has attracted attention for "Rainbow Observations" and "Collecting Rainbows," his workshops utilizing natural light, and the Bird of Light project.

Following the Great East Japan Earthquake, Yoshida's core activities have included the Fukushima Art Project. He served as art director of the festival gengenten, bringing together volunteers from among artists in Japan, and supporting ways to exhibit work that considers and conveys post-disaster Fukushima.

His work has been shown at art fairs in Japan and abroad in recent years, including Art Basel, Art Fair Tokyo, Daegu Art Fair, Art Fair Asia Fukuoka, and ART TAIPEI.

In 2019, his work was included in the exhibition HIROSHIMA at Museum on the Seam in Israel, along with the likes of Anselm Kiefer and Reiko Ikemura, and acquired by the museum for its collection.

His work is part of the collections or public art at NTT Docomo (Sumida, Tokyo), the Center for Contemporary Graphic Art (Fukushima), the Turkish-Japanese Foundation Culture Center (Ankara), Grundy Art Gallery (Blackpool, UK), Iwate Museum of Art, the Museum of Modern Art, Wakayama, and others.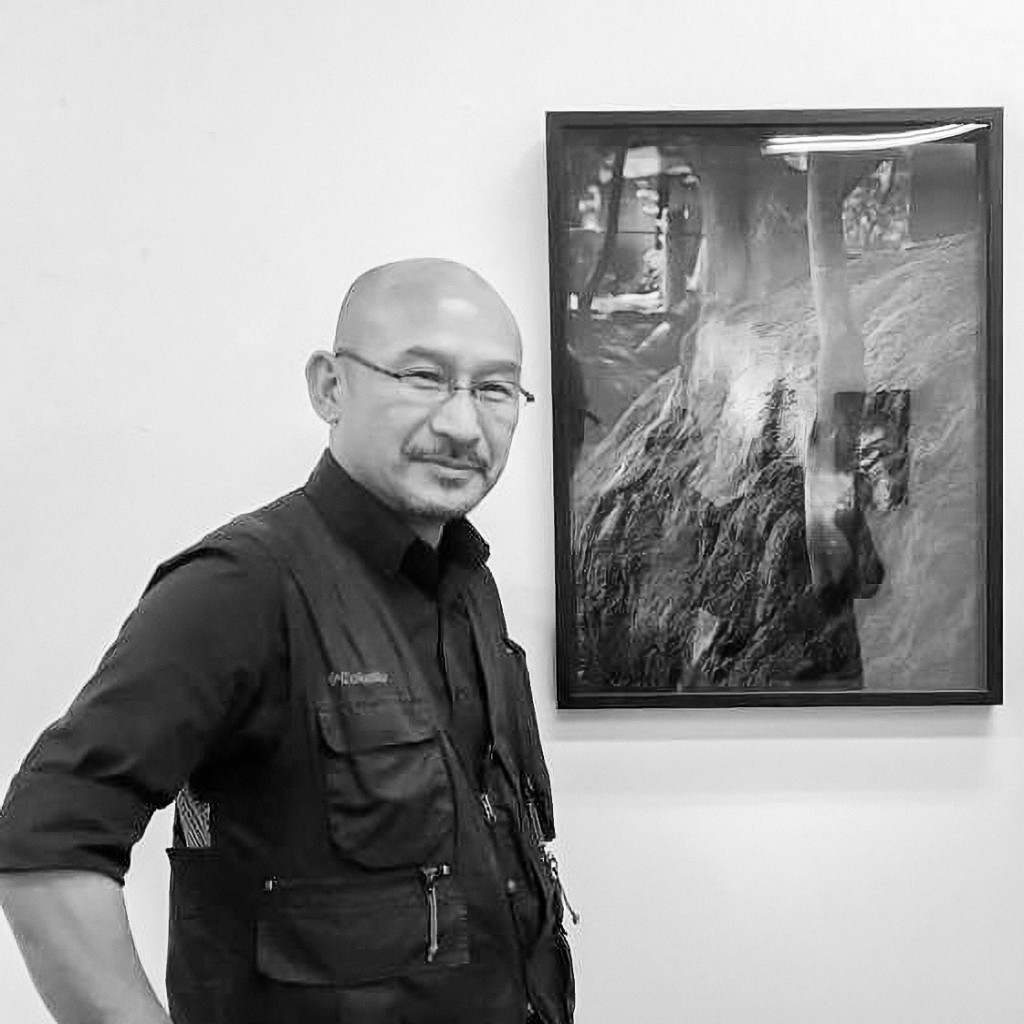 | SPECIAL ARTIST
■Sakumi Wada
animation artist / Fukuoka
Sakumi Wada studied art at the University of Teacher Education Fukuoka, graduating in 2010. Based in Munakata, she creates animations and illustrations. Her recent work captures the diversity of contemporary society through images of dinosaurs and animals, depicting the richness of life.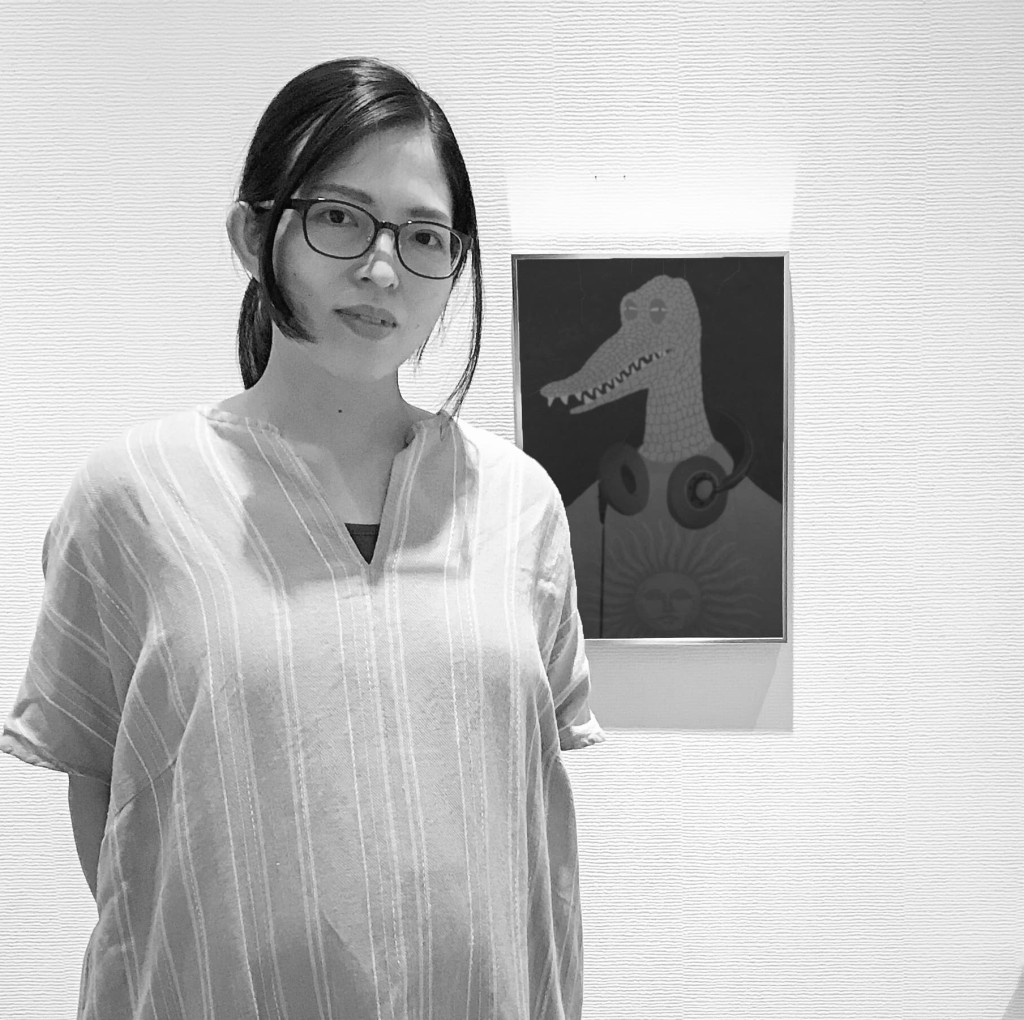 Trailer: Art Is Born
Animation
To mark the Miare rite and inspired by the streaked shearwater, the official Munakata bird, this is a lighthearted portrayal of the birth of a living creature. Enjoy its fresh vision of a new start accompanied by the traditional sounds of the shamisen and taiko.
| Commentary on Junya Yamade's publicly selected artists
Art Director: Jun'ya Yamaide
President, Yamaide Art Office Inc.
■About Mr. Nakabayashi
Seeing by Hiding
Known for his solid sculptures, Nakabayashi astonishes here with a liquid installation, a very different kind of work entirely. Does the act of wrapping something reveal the meaning of an object? Or does it create a unique form? Or is Nakabayashi exploring the theme of extinguishing things, similar to a mask? With this new endeavor, we probably won't know what it is until it's made.
■About Mr. Tomuro
Considering the Whole from the Partial
The way we see objects, things, and places, and their meanings all change according to the viewer and with time. In our complex present where the future is uncertain, this tendency is increasing and accelerating. At the same time, that prompts us to see things from a wider perspective, to take an overview. Tomuro's proposed work reminds me of the Indian fable of the blind men and an elephant, in which several blind people touch different parts of an elephant and share their impressions.
■About Mr. Hashimoto
The Invisible Yet Precious
A sound engineer I know once told me that if we concentrate on listening, we can experience a place in far more profound ways than by seeing. This new work by an artist known for his field recordings–based practice is a soundscape of Munakata. It will surely offer a very special experience, an encounter with the mystery of this place.
■About Mr. Shibuta
Free Colors Create a Beautiful Future
When I first looked at Shibuta's plan, it reminded me of a musical score. The colors seemed to have a will of their own, to be flying all around and conveying a sense of joy and freedom. The Catalan painter Joan Miró, who attempted to treat colors like musical notes, once said the following: "More important than a work of art itself is what it will sow." All manner of possibilities are released out into the world, blooming in the minds of each and every person who receives them. I want to be there at that beautiful moment. Incidentally, the main sculptor for the Sagrada Família is Etsuro Sotoo, who is also from Fukuoka.
---
Munakata gendaibijyututen jikkouiinkai
E-mail: info@miare-art.co